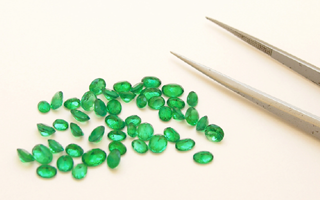 We are finally prepared to show you our emerald inventory online. We include only the inventory of emeralds set in 18K gold. Note: You do not need to register or sign in to see the inventory. For emeralds set in silver you will need to visit our shop in Cartagena.
If you wish to buy items in this inventory, please be aware that it is a bit more complicated that what you are accustomed to with your online shopping. The carriers in Colombia, be it Fedex, UPS, or the national post office, will neither accept nor insure fine jewelry for shipment overseas. As a result we must arrange to have a trusted person hand-carry your piece to the United States, where it can then be shipped to you wherever you live. This is entirely possible, it is just a bit slower than what is usual in online shopping. We encourage you to contact us with the numbers of the items that interest you. We can then describe the piece(s) more fully, and make the payment and shipping arrangements for your purchase. Click here to send me an email.
If you are arriving in Cartagena by cruise ship or are staying in a local hotel we hope that this inventory will allow you to 'know before you go', ie. look at designs and prices before arrival. From the Home page of the Inventory you can click on any category (rings, pendants, etc.). Once on the category page in the upper right hand corner you can adjust the number of items per page (30 or 50 is a comfortable number), and can sort by either "Name" or "Price".
"Name" is actually a unique product number (Ex. 14010027), because each item is a one-of-a-kind handmade piece. If you click on the picture, and then on "More information" you will be able to see the weight of the emerald(s), weight of diamond(s), and the amount of gold for that item.
"Price" in upper right hand corner arranges items in ascending or descending order by price. Scroll down, and through the following pages. If you wish to look at a range of prices for a given category, look for "Shopping Options" on the left side of the page (you may need to scroll down a bit). You move the lower and upper values of the range by clicking and moving the boxes on either end of the line, and then remember to click on "Show Products". If you want to see only the merchandise that is in stock, click on the box marked "in stock only"; otherwise there are more designs and prices visible. While not in stock, these can give you an idea of what we can produce for you.